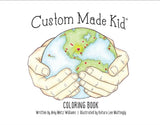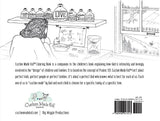 Custom Made Kid™
Custom Made Kid™ Coloring Book
Do you like to color? Well, we here at Custom Made Kid™ do, too!  The Custom Made Kid™ Coloring Book is a companion item to the Custom Made Kid™.
The Custom Made Kid™ children's book states, "It doesn't matter what we look like, how we talk, or the color of our skin..." and one reality we wanted to make sure to represent is there are no two journeys or family dynamics that are the same. 

As the well-known song "Jesus Loves The Little Children" states, "Red, brown, yellow, black, and white, they are precious in His sight. Jesus loves the little children of the world." While the author originally wrote the book to describe her own family's journey, she also tried to reflect the world as God created it. All colors. All nationalities. So many wonderful differences worth embracing.
The Custom Made Kid™ Coloring Book was created to allow room for children (and adults!) to color and create a "custom made" book of their very own. We want everyone who purchases Custom Made Kid to be able to create a book that reflects their own personal journey and Custom Made family, whatever that looks like.
What matters most to God (and should matter most to us) is the fact every kid was created by Him to be celebrated, loved, and should be important to someone!
Product Details:
Genre: Children's Books
Order Type: Printed Book
Trim Size: Landscape 9"x7"
Cover Option: Soft Cover
Binding Style: Perfect Binding
Cover Finish: Gloss Cover Finish
Text Print Type: Black Interior Printing 26-50pgs
Text Paper Stock Type: 60lb Opaque Paper Stock